Two cool things about living in Massachusetts: lots of awesome bookstores and a great community of YA and children's writers and readers. These two things come together next month, when I join some favorite local YA authors for a panel at the Blue Bunny Bookstore in Dedham, MA. The details:
Young Adult Author Panel Discussion and Book Signing
Saturday March 14th, 3 p.m.
The Blue Bunny Books & Toys
577 High St, Dedham, Massachusetts 02026
Join YA authors Cara Bertrand, Kim Harrington, Annie Cardi, AC Gaughen, and Gina Damico for a panel discussion, Q&A, and some tasty treats.
I'm so excited to be part of such a great group. Plus, it's March 14th, aka 3/14, aka Pi Day, so there may even be celebratory pie. What more could you want?
And since it's an event at the Blue Bunny, that's an excuse to share a bunny gif, right?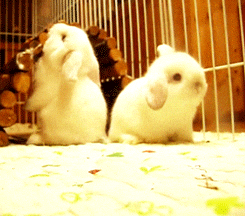 Hope to see you all next month!