About a week away from publication, and more good news on the review front. The Chance You Won't Return received a starred review from Publishers Weekly! From the review?
"In Cardi's candid and multilayered debut, high school junior Alex Winchester already has a full plate when her mother begins to believe she is Amelia Earhart…Alex's voice is caustic, honest, and studded with humor. Cardi weaves elegant metaphors and incisive dialogue throughout her chapters, concluding with a wrenching sentiment about the necessity of sometimes allowing a lost loved one to find her own way home."
That deserves a happy puppy gif: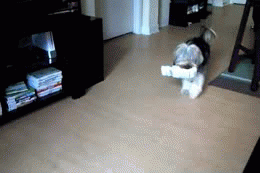 Click through for the full review.