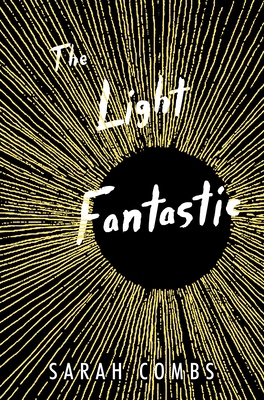 Fellow Candlewick author Sarah Combs is one of my favorite writers and people in the world. Her debut, Breakfast Served Anytime, got me teary because it was so beautifully written and so full of love and hope and feels. So obviously I've been way excited for her next book, and I am thrilled to say that The Light Fantastic is out today! A little about the book:
Delaware, the morning of April 19. Senior Skip Day, and April Donovan's eighteenth birthday. Four days after the Boston Marathon bombing, the country is still reeling, and April's rare memory condition has her recounting all the tragedies that have cursed her birth month. And just what was that mysterious gathering under the bleachers about? Meanwhile, in Nebraska, Lincoln Evans struggles to pay attention in Honors English, distracted by the enigmatic presence of Laura Echols, capturer of his heart. His teacher tries to hold her class's interest, but she can t keep her mind off what Adrian George told her earlier. Over in Idaho, Phoebe is having second thoughts about the Plan mere hours before the start of a cross-country ploy led by an Internet savant known as the Mastermind. Is all her heartache worth the cost of the Assassins machinations? The Light Fantastic is a tense, shocking, and beautifully wrought exploration of the pain and pathos of a generation of teenagers on the brink and the hope of moving from shame and isolation into the light of redemption.
I'm so excited to see how Sarah brings together these viewpoints to craft a sensitive and thoughtful story of grief and anger and pain and hope.
In case that all sounds awesome to you, too, friend and fantastic book blogger Ginger is celebrating The Light Fantastic's release with a giveaway! Inspired by one of the book's associated discussion questions, Sarah and Ginger are sharing their lists of five good things/things that matter. Check out their lists and sign up to win a copy of the book!
Even though I've already ordered my copy, I want to share my list of five good, real things. In no particular order:
The smell of bread baking, the magic of seeing how such simple ingredients can become something so delicious.
When a song comes on the radio and you have to turn it up and sing along and make ridiculous emotive hand gestures.
The first sip of coffee.
Jokes you have with loved ones that go so far back, you don't even remember exactly when or how they started.
When you're watching a movie, sneaking a glance at the rest of the audience and seeing them engrossed in the story.
Head over to Ginger's to share your five, enter her giveaway, and most importantly, get yourself a copy of The Light Fantastic by Sarah Combs!