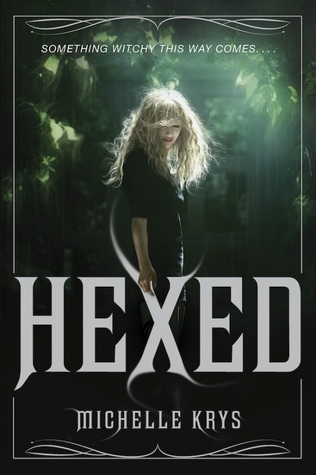 I grew up in the era of Buffy and Charmed and stories about paranormal worlds and girls with superpowers, so of course I was excited to read Hexed by Michelle Krys. Needless to say, it's just as fun and thrilling as I hoped. Here are a few of my reasons you should read Hexed:
1. Banter
Okay, in a book about witches and sorcerers, the banter is at the top of this list? Yeah, that's right–Michelle's writing and her character's voices had me laughing and giving mental high fives the whole way through. Indie's narration and the dialogue of all the characters gives Hexed such a fun, fresh tone.
2. Magical Factions
Let's be real–the magical powers side is pretty awesome, too. I love how Michelle sets up the Family vs. the Priory, and how Indie is stuck in the middle of these warring factions because of her family's Witch Hunter's Bible. She sets up this world well, and I'm excited to see more of how these sides work and fight–and what they want from Indie.
3. Indie, Unlikely Hero
So often through Hexed I kept thinking of very early Buffy–the Buffy who wanted to be popular and a cheerleader and could the vampires just quit it for one night? But also the Buffy who didn't put up with crap and was funny and clever and was gonna kick ass. I think readers are going to have a similar connection with Indie, who's smart and sassy, but maybe not your initial idea of a magical heroine.
4. Paige
Paige was such a delightful addition to the story! She seems like the awkward friend character from TV, but grows into so much more–she's smart and confident in her own way, and a wonderfully loyal friend to Indie during a totally unstable time. Another example of how Michelle plays with some tropes and makes them into complex, lovable characters.
5. That One Moment That Literally Made Me Jump
No, I'm not going to say what it is. But seriously–jumped in my chair. I had to read the paragraph over again to make sure I got it right because WHAT OH MY LORD HOW COULD THIS HAPPEN?
6. Stakes–and No, I Don't Mean Vampires
Yeah, the stakes are pretty high in Hexed. (Like in that one moment above.) Michelle doesn't pull any punches in her narrative, which I really appreciate. So often I read and think "Oh, this person won't really get hurt because we're only about halfway through the book." Um, no. The Priory and the Family are out for their own interests and they don't care who's caught in the crossfire.
7. Twists and Turns
Outside of that one moment, lots of other great twists and turns throughout. It makes for a really fun, dynamic reading experience, and makes me think Michelle should be the head writer for a TV show.
8. Humor
Fortunately, with all these dramatic twists and turns, there are also a lot of hilarious comments and funny moments. It helps keep the novel fresh and light, even when seriously bad things are happening to the characters.
9. Cliffhangers
So I'm really glad that the sequel comes out next year, because Michelle gives readers some major cliffhangers. I need to know what happens next, Krys!!!
10. Michelle Krys, Magically Delightful
I've gotten to know Michelle through the OneFours, and she's lovely and funny and supportive of her fellow writers. I'm really excited to see Michelle's career know and see readers get to know her for the wonderful person she si.
Hexed is out now, so pick up your copy today!